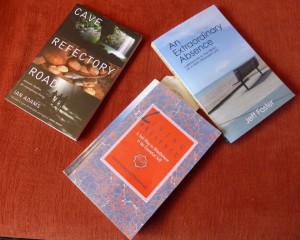 My open-minded quest for enlightening reading.
When I visit Amazon UK I study their suggestions for my next set of books wondering what criteria their software uses to decide what I'll like.  So a few months ago I elected to buy three books they were pushing hard at me.
Living Presence by Kabir Edmund Helminski
An Extraordinary Absence by Jeff Foster  
and Cave, Refectory Road by Ian Adams
Using the body to pray.
Living Presence I liked and it gave me an insight into many aspects of Sufism.  I have had contact with Sufis near my finca in the Sierra de Gata in Extremadura, Spain.  They have impressed me with their gentleness and dedication to a radical spiritual life for their families.  They care for the land they work with a solid awareness of how connected they are to it, as to everything and their commitment to their spiritual lifestyle is unquestionable.
I like the quotes from Rumi, the 13C Persian poet, and feel heartened that there is so much convergence in our global spirituality, in the traditions which have grown through humanity's different cultural and environmental conditions, but which all witness to our deep longing to be connected together in union with God.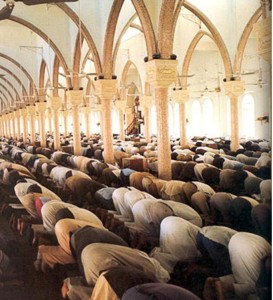 As one trained by the Catholic Church to be wary of my body and to consider it the greatest potential source of sinfulness I have,  Kabir Helminski's book has led me to consider seriously learning the Muslim Salat.
" The Islamic ritual prayer, practised five times a day is a sequence of standing, bowing, prostrating and kneeling accompanied by prescribed verbal affirmations and lines from the Qur'an selected and recited by an individual.  The prayer is understood to be invalid without a mindful witnessing of the presence of God.  Physically it exercises the major joints (especially the spinal column), massages the intestinal tract, transmits a reflex to the liver, regulates the breath and stimulates the frontal cortex of the brain as it is brought low to the ground, while momentarily leaving the heart in a higher position than the brain…………..Done five times a day it has profound effects on the body and soul."
As Catholics we don't have anything to match this, even with the monastic hours, but I see no reason why we shouldn't give it a go.  I might go on a Muslim retreat or pilgrimage.
The book is full of richness and I can't say I've explored it fully.  I will leave it lying around so I can dip into it again and again.  I always have books like this in the loo which is where I practise "Lectio Divina" regularly which is the nearest I get to combining bodily movement and prayer:  so far.
Enlightenment: it must be better than this.
I had added Jeff Foster's  An Extraordinary Absence to my Amazon basket because the subtitle said, "Liberation in the midst of a very ordinary life".  This seemed to fit well with my quest to live a simple and contemplative life in the City of Madrid.  I'd also picked up The Checkout Girl  and Michael Foley's Embracing the Ordinary (The Amazon one-star reviews are worth reading) in the hope that my own spiritual enlightenment, nourished so lavishly by living in nature for so many years would not be choked by city life which is, for me, uniformly monochromatic.
Having relished Thomas Merton's Zen and the birds of appetite, a collection of masterly articles on Zen and the contemplative life perhaps it is unfair to make comparisons with any other person's writings about the great themes of self, nothingness, the inexpressible, union, transformation and the One, especially with Teilhard de Chardin's Le Milieu Divin recently re-read.
That part of me which is illusory, superficial and unenlightened is straining like a pack of greyhounds to escape from the traps in which I try to contain the venomous criticism and belittling laughter which has been awakened by An Extraordinary Absence.  It is an easy book to make fun of, so I won't.  I'll pick a random quote and let you do your own dirty work.  I will also redeem myself right now by acknowledging that my own bemused reaction to this book may be singularly my own and that many people just love Jeff Foster's works.
"You want awakening?  First of all find out if there's somebody sitting on this chair.  When it's seen that nobody is sitting on this chair, it's also seen in clarity that there is nobody there who could ever become awakened."
Enlightenment must be better than this.
Amazing Grace
Cave, Refectory, Road by Ian Adams, got better and better as I read it.  Some of the author's own poems really touched me and if I don't manage to incorporate the Salat into my daily rhythm I will certainly lie face down on the earth from time to time.  This is one of many practical suggestions which fill this book along with wisdom, gleaned from experience, of bringing ancient monastic practices into life today, even city life.
It is a gem of a book which doesn't flinch from looking at aspects of monasticism which are not so comfortable for us with our cosy lifestyles – like celibacy and fasting and obedience.  The key to managing to live committed to community and to God in a contemporary setting may well lie in these less easily acceptable monastic elements and Ian Adams shows some ways in which this might happen.
Grace is the Christian's word for God's touching us.  Ian Adam´s book shows us ways in which we can be open to God's grace.  The wisdom of the Eastern faiths can especially help us to take stock of just how blind we can be to God's grace in today's world.  Kabir Helminski's Living Presence explores how with a broad view from many faith traditions.
Mysticism and the uncompromising life lived according to the Sermon on the Mount – the future of the Church?
I end with two quotations I often come across in my reading:
'…the restoration of the church will surely come only from a new type of monasticism which has nothing in common with the old but a complete lack of compromise in a life lived in accordance with the Sermon on the Mount in the discipleship of Christ.  I think it is time to gather people together..
-Dietrich Bonhoeffer
and 
"In the days ahead, you will either be a mystic (one who has experienced God for real) or nothing at all."